Norwegian cod prices have climbed by almost a quarter year on year. An increased level of export demand from markets including China has coincided with reduced supply, which has come as a result of a cut to the country's cod fishing quota.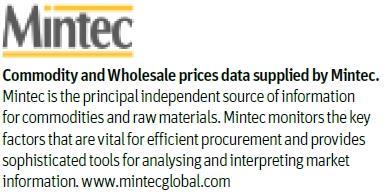 Canada's total allowable catch for coldwater prawns was cut by 17% for 2014/15 to 87,719 tonnes, after research suggested stocks were considerably lower than previously thought. This has resulted in tight supplies across the market, causing prices to rise year on year.

Both skipjack tuna and the more expensive yellowfin have experienced sharp price declines year on year, as a result of good supply from high catch levels, and low demand, especially within the Japanese markets.

Whiting prices have fallen by more than a third month on month - typical for this time of year, when demand falls. Prices are down very slightly on the same time last year.