High demand from Turkey, Iraq, Iran, Hong Kong and North America continues to push up Sri Lankan tea prices month on month. On a year-on-year basis, however, prices remain cheaper.
Similarly, gas prices are up month on month as potential EU sanctions could lead to a halt in gas Russia. But ample global supplies mean prices continue to be lower than a year ago.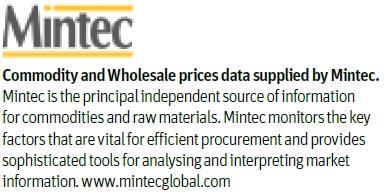 Thailand has halted rice sales to review the quality of the stored crop, resulting in a month-on-month rise.
Meanwhile, cocoa powder prices have fallen by more than a third year on year thanks to rising global demand for cocoa butter, which has caused a build-up of supplies of cocoa powder.