Tomato prices are up more than 50% month on month, as a result of the current season ending prematurely due to colder weather coming in earlier than expected. This slowed production, which had already been affected by higher temperatures earlier in the season.

Meanwhile, supplies coming in from the Spanish onion crop - which had been delayed by unfavourable weather conditions - have contributed to a fall in UK onion prices.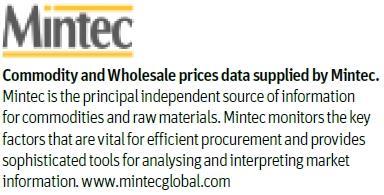 Banana prices are up year on year due to severe weather in Costa Rica and Columbia. Poor weather has also taken its toll on pepper prices, which have risen after colder weather slowed production. Overall, however, supply is good, and prices are down year on year.

The UK potato season is now in full swing, resulting in a price fall on last month. This year's crop is also progressing well and at a faster pace than last year, which has resulted in a year-on-year fall.