Turkey, a major exporter into the UK and EU, is playing a big role in the fortunes of many key ingredients.

While the price of raisins, sultanas and currants are relatively stable month on month, good supply from Turkey has pushed down year on year prices by up to 37%.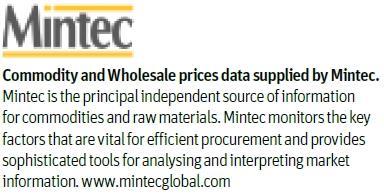 The much-publicised concerns over hazelnuts continue to drive up costs. Hazelnut trees in Turkey bloomed early this year and severe frosts at the end of March damaged crops. The upward trend that has pushed prices up 41% year on year and also brought an 11% month-on-month increase continues.

Another Turkish export - dried apricots - has more than doubled year on year, as supply remains tight following drought and frost.

The price of desiccated coconut is also up year on year, with the current typhoon period - which runs to October - pushing up prices significantly.