Weather conditions in Turkey have affected the prices of a range of ingredients in different ways. The country experienced harsh frosts in March and April, which damaged the development of the hazelnut crop and harmed apricot plants during the flowering period. Consequently, the price of both have risen sharply year on year.

In contrast, the country's weather has been favourable to grape production, which has resulted in an increased planted area and high production of sultanas and raisins. Prices for each of these have fallen by about two fifths year on year.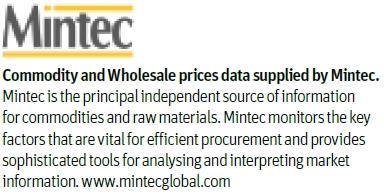 Prices are up year-on-year for Filipino desiccated coconut. Supplies of the produce continue to be affected by the disruption to the crop caused by typhoon Haiyan last year - it can take several years for a replanted coconut tree to reach peak production. Transportation links have also suffered, and supplies remain tight.