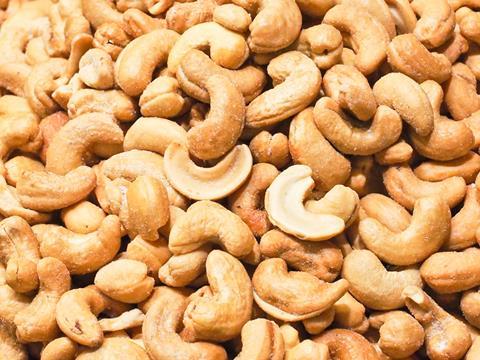 Cashew prices continue to strengthen due to lower production in Vietnam, where crops were affected by drought this year, strong global demand and the weaker pound.

Peanut prices are also still much higher than last year due to lower production in Argentina, where the crop has been forecast at 928,000 tonnes, down 22% year on year.

Almond prices have increased since September due to stronger demand and increased global shipments. However, large supplies from California means prices remain lower than last year.

Sultana prices are considerably lower year on year following a big crop from major producer turkey. Turkish production for 2016/17 is estimated at 300,00 tonnes, up 36% year on year.

Pepper prices have fallen due to improved global supplies. Pepper production in Vietnam has been estimated at between 150,000 and 160,000 tonnes in 2016, up 20% year on year.
| Ingredients | Price in GBP per tonne | m-o-m % | y-o-y % |
| --- | --- | --- | --- |
| Cashews (Vietnam) | 8,227 | 2.5 | 66 |
| Peanuts (EU) | 1,290.30 | –1.2 | 48.6 |
| Desiccated coconut (PH) | 1,919.90 | –2.0 | 44.3 |
| Hazelnuts (UK) | 7,024 | –10.7 | 2.2 |
| Dried apricots (UK) | 3,197 | –5.1 | –0.6 |
| Honey (Spain) | 2,043 | 7.4 | –7.7 |
| Black pepper (Vietnam) | 4,604 | –10.2 | –15.6 |
| Sultanas (EU) | 1,169 | 2.4 | –16.4 |
| Raisins (UK) | 1,246 | –1.6 | –16.5 |
| Almonds (EU) | 5,367 | 19.9 | –23.2 |