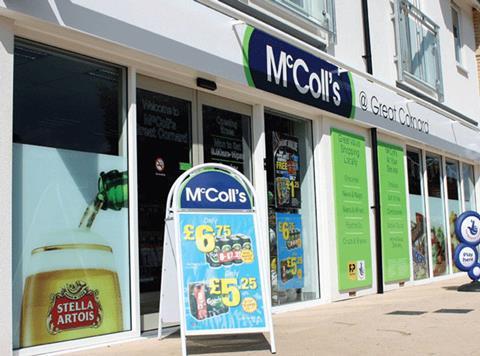 McColl's Retail Group has posted like-for-like sales growth of 1.4% in the 19 weeks to 6 April.
The c-store chain, which floated on the stock exchange last month, also said total sales rose 3% during the period.
In a trading update released this morning, McColl's said following its IPO, its refinancing had been completed and that it had "significantly" reduced its debt levels and debt service costs. Bank borrowings had been reduced from £109.9m to £60.9m.
During the 19 weeks, it acquired 10 new premium convenience stores and converted 93 standard c-stores into premium c-stores by adding a wider range of groceries, chilled and fresh foods. It also converted 11 CTNs to food and wine stores and closed four underperforming stores. It now has 725 c-stores, making up 56% of its 1,279-store estate.
It also revealed it "has the potential" to acquire a further 30 c-stores or to convert a "substantial" number of CTNs to food and wine stores following a new agreement with the Post Office. Through this agreement, it will complete 191 Post Office Local conversions this year.
"We are pleased with how life as a public company has begun," said chairman and CEO James Lancaster.
"Trading figures remain encouraging and we are making good progress on our strategy to further enhance our position in a rapidly growing convenience market."