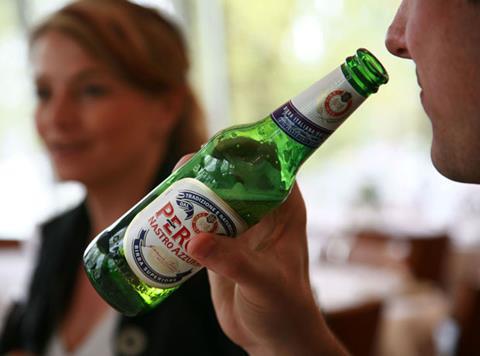 Peroni Nastro Azzurro powered a 9% hike in SABMiller sales in the UK, the brewer revealed today.
The UK market was a bright spot for SABMiller in an otherwise disappointing quarter in Europe, where group net producer revenue (the company's new reporting metric) was down 6% on volumes down 2%.
Lager volumes across Europe were down 5% due to tough trading in Poland, Italy, Russia and Romania, it said.
Overall group sales grew by 4% in the quarter ending 31 December, SABMiller added, with lager volumes up 1% globally and soft-drinks volumes up 7% – a performance it described as in line with expectations.
"Growth in the third quarter was driven by our emerging market businesses where we are successfully targeting new consumers through affordability and premiumisation initiatives across our brand portfolios," said CEO Alan Clark.
"The combination of pricing and volume growth, particularly in Africa, Latin America and China, supported net producer revenue growth of 4%. This was in spite of continued weakness in consumer sentiment, which particularly impacted our European and North American businesses."
Revenues in Africa grew by 8% on volumes up 5%, while in Asia-Pacific revenues grew 6%. China was the star performer in the region, with SABMiller reporting volume growth of 13% in the country, driven by its trend towards premiumisation.
In December, the group announced the death of chairman Graham Mackay, with acting chairman John Manser stepping into the role.