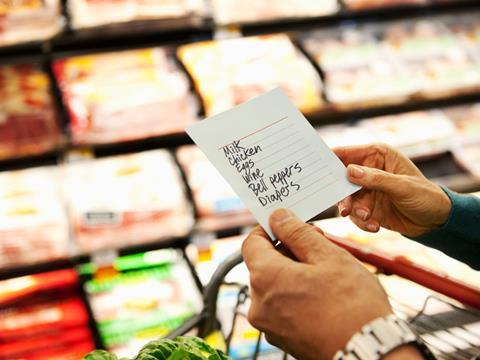 The family shopping list has "effectively been killed off" as shoppers move away from meal planning and decide what to eat on the day, a new report by The Co-op Group has claimed.

The report cites a nationwide survey of 2,000 people by Atomik Research in August, which suggests 16% of consumers never use a shopping list and 60% only write down the key products they require.

It also highlights an increase in spontaneous cooking, which it says is fuelling top-up shops, with younger demographics leading the move to convenience shopping.

Many shoppers now decide what to eat on the day rather than planning ahead, the Mission Impulsive report says. This has "effectively killed off the family food shopping list," it claims.

The report also notes that Friday and Saturday shopping has declined whereas mid-week shopping is growing.

Steve Murrells, chief executive for retail at The Co-operative Group, said the idea of planning and eating three square meals a day was "a thing of the past".

"Our report highlights how social and lifestyle developments have changed consumers' attitudes towards weekly meal planning and how a shift in purchase behaviours has led to the development of products in response to this consumer trend," he said.

IGD figures show the convenience market is worth £37.7bn. It is forecast to grow 17% to be £44.1bn in 2020, increasing its share of the total market from 21.2% this year to 22% in 2020.