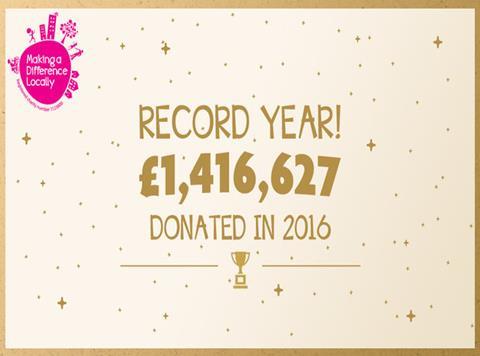 Nisa's Making a Difference Locally charity has completed a record year for donations.

The charity initiative donated over £1.4m to charities and good causes in 2016, the largest total amount since it was formed in 2008.

Almost 2,000 donations were made to community groups, schools, sports clubs and charities over the year including a £400 donation from Nisa Splott to bereavement support service 2 Wish Upon a Star in Wales.

"We are very grateful for the kind donation made by the Nisa Local store," said Rhian Burke, founder of 2 Wish Upon A Star.

"The funds raised will go towards helping those who are in need of immediate shock and trauma support and towards improving the bereavement facilities in local hospitals and A&E departments."

Nisa raises funds through its independent store members, through the sale of its own-label Heritage range and selected branded products.

"We are delighted with the amount donated through Making a Difference Locally in 2016 as the donations made will make a huge difference to almost 2,000 causes across the UK, particularly those smaller charities and community groups that rely on public support," said Making a Difference Locally charity manager Kate Carroll.

"We are thrilled that last year was another record year for the charity, delivering some amazing, life-changing donations to local communities, which we hope to see even more of in 2017."

Since its formation, Making a Difference Locally has donated almost £7m to good causes and now works with over 2,300 Nisa stores.