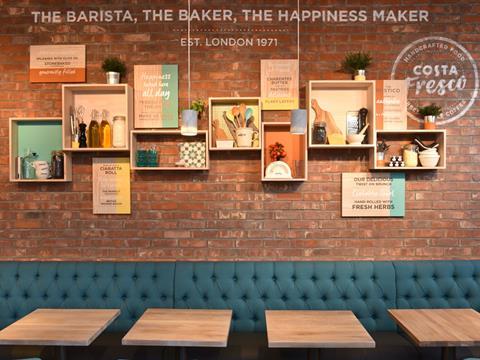 Costa is the latest coffee chain to up its foodie credentials with a new food-focused concept store in London.

Costa Fresco on Tottenham Court Road is 'zoned' to cater to different customers, has a self-serve bakery table and offers a new menu freshly baked by staff on site.

New additions to the food offering include a Rustico range with Italian bread that it claims is "undiscovered in the UK" and a range of hot, gluten free organic porridge and soup.

Inspired by Italian handcrafted food, the concept has been in development for two years and has options for breakfast, lunch and snacking alongside its usual coffee offering.

"Costa Fresco fills a gap in the market - sitting in the space between coffee shops and food outlets, with better food than coffee shops and better coffee than food outlets," said brand and innovation director Carol Welch. "It's a fusion of London's handcrafted bakeries brought to life by our heritage, Italian passion and gusto for vibrant ingredients and genuinely good food."

It comes hot on the heels of a new food concept store opened by Starbucks in Covent Garden in October.