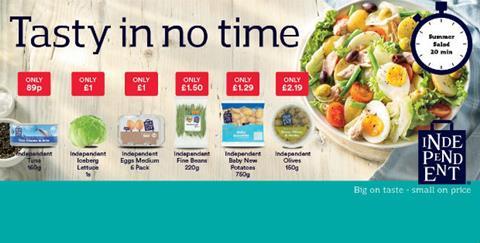 Costcutter is launching a marketing campaign to promote 600 products from its own-label range to be used in 'fuss-free' meals.

The Tasty in no Time campaign (above) will include a host of quick and easy recipes using products from its Independent brand.

Set to run for the rest of this year, the initiative will include weekly basics and special treats.

"Today's shoppers are extremely time-poor and are always looking for high-quality meal solutions," said Independent head of marketing Jodene Rogers.

"The Tasty in no Time campaign will enable our retailers to showcase the quality products within the Independent range and provide shoppers with some great suggestions for fantastic fuss-free meals in minutes."

The campaign is being promoted to Costcutter retailers through its ActivHub portal and ActivMobile push notifications to ensure retailers are stocking the right products at the right times.