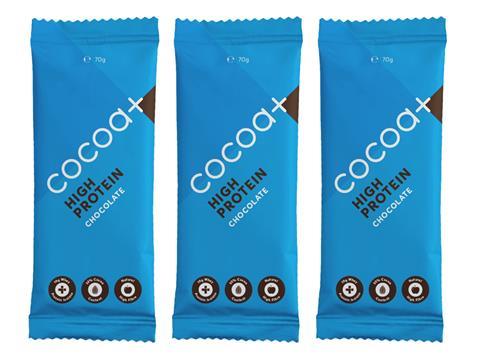 A protein-enhanced chocolate bar has been launched to rival "less tasty" protein snacks.
Cocoa+ is a fusion of chocolate and whey protein isolate, with each 70g bar containing 19g of protein - comparable to the protein content of four large eggs.
The chocolate, which is free from artificial ingredients, had been borne out of "frustration" that most protein bars and snacks compromised on taste and texture, said co-founder Sam Victor, adding the aim had been to create a high-protein snack that did not taste like one.
"It's a functional chocolate that is suited to anyone seeking a great-tasting snack with added health benefits from the protein and cocoa," he said.
The self-funded business has secured listings with independent retailers, and will start rolling out in the next couple of weeks. It was hoping to launch with the major multiples next year, said Victor.
Further flavours are set to join the original variant next year.