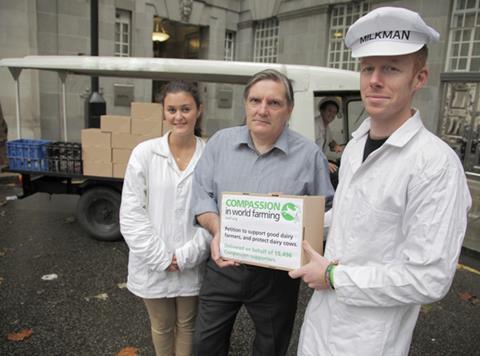 Animal welfare campaigners have thrown in their lot with those battling to win a better deal for Britain's dairy farmers.
Compassion in World Farming today drove a milk float into London to hand Defra a petition, featuring 15,000 signatures, calling for legislators to work with the dairy industry to ensure a fair price is paid to farmers for their milk.
"This is a crucial time for the British dairy industry," said CiWF's Emma Slawinski. "Recent events have shown how vulnerable many dairy farms are to continued pressure to drive down prices at a time when production costs are increasing.
"We are concerned that if this continues, farmers will feel they are being forced to move to intensive forms of production such as mega dairies and zero grazing.
"This is not the answer for British farmers, or for the cows who can suffer in these systems. It is vital farmers are paid a fair price in order to secure their livelihoods, their role in the stewardship of the countryside and their ability to contribute towards environmentally sustainable farming."