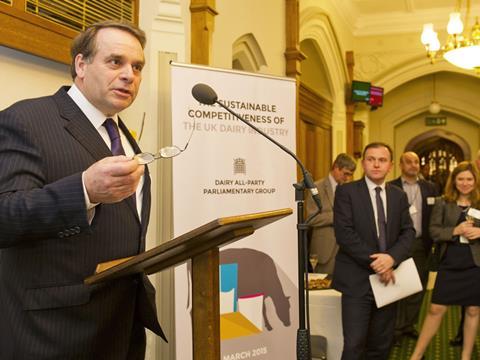 A group of MPs has thrown its weight behind calls to extend the remit of the Groceries Code Adjudicator (GCA) to include dairy farmers.

In a report titled 'The Sustainable Competitiveness of the British Dairy Industry', published this week, the Dairy All-Party Parliamentary Group (APPG) called for the government to "examine the practicality" of extending the GCA's remit.

Farming minister George Eustice told The Grocer last week that any extension of the Adjudicator's powers would be difficult to achieve in the short-term. But the APPG said such an extension would "give confidence to farmers that they are receiving a fair deal".

The 26-page report also called on the government to work with the European Commission to develop new free-trade agreements overseas, better promote the nutritional value of dairy products to the public, and look into introducing mandatory country of origin labelling.

However, one recommendation, to press the European Commission to minimise extreme price volatility by increasing its intervention price, looks to have fallen at the first hurdle after European Commissioner for agriculture Phil Hogan dismissed the idea at last week's NFU conference.