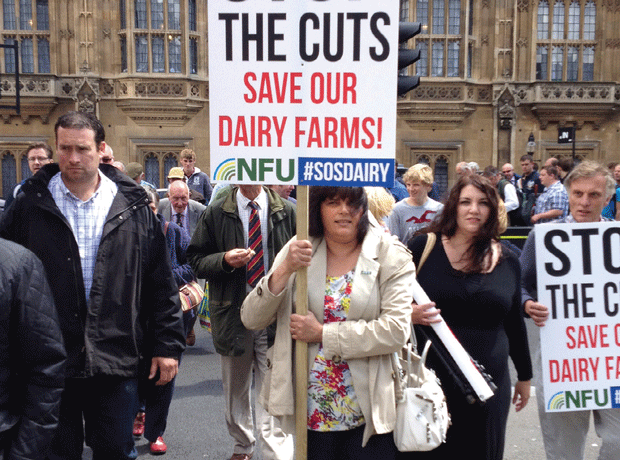 The NFU has published a list of "friendly" retailers and foodservice companies that have committed to supporting British dairy farmers, as it seeks to further raise consumer awareness of milk price cuts.
The list, which can be found on a new section of the NFU website entitled 'Who backs GB dairy?', currently lists nine retailers: Tesco, Sainsbury's, Asda, Morrisons, The Co-operative Group, Waitrose, Marks & Spencer, Aldi and Lidl. It also mentions foodservice companies Brakes, 3663 and Sodexo, as well as high street chain Costa Coffee.
Details are given about whether companies have dedicated milk supply groups, what premiums they pay, how they have reacted to recent dairy farmer protests and what commitments they have made to ensure they source milk sustainably. The companies are not ranked to reflect the size of their premiums or the milk price mechanisms used.
"Some of the leading supermarkets and foodservice operations have made commitments to ensure that farmers receive a sustainable price for their milk," the NFU says in an introduction to the list. "However, others have yet to confirm how they are going to ensure that the farmers who supply them receive a fair deal."
It goes on to point out that although some retailers have made commitments on fresh milk, "none makes similar commitments on cheese or other dairy products".
The NFU says it has contacted all major milk buyers and will be updating its list of "friends of farmers" as it receives new information.