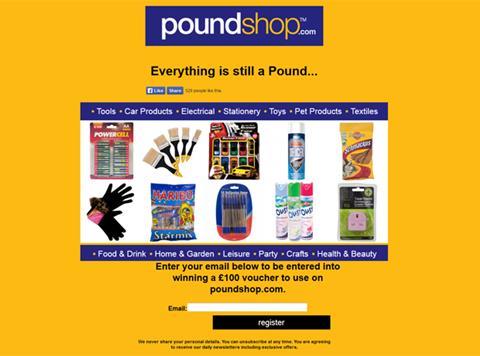 Hundreds of customers have taken to the web to complain with technical glitches currently holding up the launch of Poundshop.com.
We've all been there before, but it is 2014 now so come on Pound Shop you should be able to handle traffic

— Fred (@fredsoneya) February 11, 2014
The online shop from Poundworld had been scheduled to go live for orders from 2pm today, but a Poundworld spokeswoman admitted the e-tailer has struggled to cope with demand and that the website would be down temporarily.
"Poundshop.com has received an unprecedented response. Due to the massive volume of hits we received to the site it is temporarily down and we are working to have it back up live very shortly," the spokeswoman told The Grocer.
The spokeswoman claimed that the technical issues were caused by 5,000 people per second trying to log on to the site.
After a two-and-a-half hour delay, Poundshop.com is now live.
The site, which has a minimum order of £10 and delivery at a flat fee of £3.65, will increase Poundworld's reach to areas where it does not currently have a retail location, Poundworld trading director Chris Edwards Junior said earlier this week.
Picking will take place at the company's main distribution centre in Gateshead, from where deliveries will also be made.
This story was updated at 16.31.
Blog: In for a penny…