Prices for crude oil have continued to fall due to rising supplies and expectations of lower demand. In an attempt to protect market share, the OPEC countries have maintained production at the same level, despite ample supplies. Saudi Arabia has also lowered export prices to more Asian countries.

There have been concerns of tighter diesel supplies in the EU due to lower imports from the US and Russia, which usually cover any shortage in domestic production. Despite this, prices have fallen as a result in the movement of crude oil.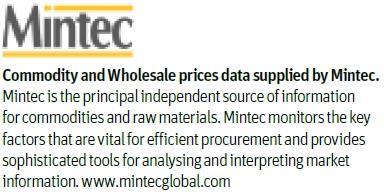 Emerging markets, particularly in Asia, are seeing surging demand for chocolate products - a knock-on effect of rapid urbanisation. As a result, prices for cocoa powder continue to see price increases.