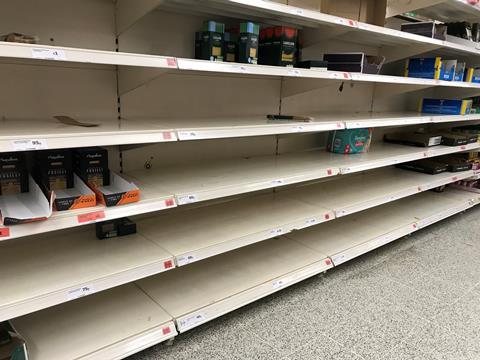 The wave of stockpiling triggered by the arrival of coronavirus on British shores means that many people will never take full supermarket shelves for granted again. And the week ahead will be another nail-biter for the country's food retailers as they try to make good on their promise to "feed the nation". (The Guardian)
Online grocers fail to shine during biggest test yet, writes The FT. Overwhelmed with demand during the coronavirus outbreak, groups have disappointed customers. (The Financial Times £)
Food delivery company Ocado has said its decision to order 100,000 Covid-19 testing kits for staff would help keep grocery supplies flowing and protect both staff and the public - but has promised to hand them over to the NHS if required. (The Guardian)
The coronavirus has heaped pressure on complex supply chains that stretch across borders and rely on a fine sequence to ensure products from medicines to vegetables arrive in time. The past few weeks of empty shelves, stripped bare by panic buying, and online food delivery websites crashing, have raised questions about the resilience of those chains. (The Times £)
The coronavirus pandemic has awakened wider fears about the security and strength of the hugely complicated supply chains, or logistics systems, that modern societies depend on. (The BBC)
Tesco is limiting new online shopping orders to 80 items following a surge in order sizes as households fill their fridges, freezers and cupboards amid the coronavirus lockdown. (Sky News)
Co-op boss Steve Murrells pledges to deliver food to the needy during the coronavirus outbreak, but warns more shops may have to close their doors. (The Daily Mail)
Morrisons is setting aside £10m worth of groceries for food banks across the UK, while caterers Brakes and Bidfood have started delivering food to vulnerable people (The Telegraph). Supermarket chain Morrisons is to distribute £10m worth of food to the UK's food banks during the coronavirus outbreak by producing more fresh items from its own manufacturing sites and bolstering deliveries from its stores (The Guardian).
Deliveroo, the food delivery service, is to deliver 500,000 free meals to NHS workers across Britain as the coronavirus pandemic intensifies. (Sky News)
Fears that many of Britain's high street shops will be forced to close down permanently despite the government's emergency support were fuelled yesterday after a string of retailers said the coronavirus outbreak could make their businesses unviable. (The Guardian)
UK landlords are threatening legal action against retailers and hospitality businesses after many withheld rent to save cash during the lockdown. (The Financial Times £)
Property lobby groups held talks with the Treasury last week, trying to thrash out a relief package for landlords, some of which could be left unable to service the interest payments on their debt. (The Times £)
Shops on struggling high streets and shopping centres may never reopen as retailers are forced into a more rapid retreat by coronavirus, one Britain's biggest landlords warns this weekend. (The Telegraph)
Carluccio's, the casual dining chain which has been a fixture on affluent British high streets for 20 years, is on the brink of calling in administrators after being forced to close its restaurants amid the coronavirus pandemic (Sky News). The restaurant company founded by Antonio Carluccio is expected to appoint FRP, the insolvency specialist, early next week after the failure of emergency merger talks with the Byron burger chain (The Times £). Carluccio's is set to become the latest restaurant casualty of the coronavirus pandemic as it prepares to call in administrators, threatening more than 2,000 jobs (The Telegraph). The Italian restaurant chain Carluccio's and the rent-to-own retailer BrightHouse are expected to be among the first high-street casualties of the coronavirus shutdown, putting about 4,400 jobs at risk (The Guardian).
The UK's poultry industry is struggling to handle a spike in demand for chicken as British consumers stuck at home change their eating habits and staff stay away from work over coronavirus fears. (The Financial Times £)
Dairy farmers are warning they will go out of business because the price they are paid for milk has fallen, despite shortages in some supermarkets. (The BBC)
A third of this summer's food harvest could go to waste on British farms because of a chronic shortage of migrant labour caused by the coronavirus outbreak, charities and farmers are warning. (Sky News)
Marmite and Dove soap maker Unilever is facing allegations that it underpaid hundreds of millions of pounds in tax. Bosses at the Anglo-Dutch giant are challenging the claim, but admit that it could cost the firm up to €600m. (The Daily Mail)
Global petrol demand is set to drop as much as 50 per cent in some key markets as western economies come to a halt in response to the coronavirus pandemic, analysts warn (The Financial Times £)
A crucial source of funding for start-ups has collapsed as investors take fright over the coronavirus, putting thousands of promising young companies at risk. (The Times £)
Big investors and institutions across the City of London are considering relaxing shareholder protection principles in an effort to allow British companies to raise cash quickly during the coronavirus pandemic. (The Financial Times £)
Tesco's departing CEO Dave Lewis has been named person of the year in the FT/ArcelorMittal Boldness in Business for "fixing the ailing supermarket giant". Turning round the company was about dealing in simple concepts and listening, Lewis says. (The Financial Times £)
Sales of Reckitt Benckiser's Dettol cleaning products have soared because of the Covid-19 crisis, prompting supermarkets to ration how many articles customers can buy. To meet demand, production has been stepped up at Reckitt's factories in Derby, Nottingham and Hull. (The Times £)
Wetherspoon could face legal action unless it pays breweries. The pub chain has said it will withhold payment to struggling beer suppliers during the coronavirus crisis, claiming it does not have enough cash. (The Daily Mail)
Beer subscription and delivery firms have seen an "unprecedented" surge in demand after pubs and bars were forced to shut under lockdown. (The Telegraph)
Cash could be almost killed off by the end of the summer as shoppers switch to using cards and never go back, the head of the ATM network warned last night. (The Daily Mail)