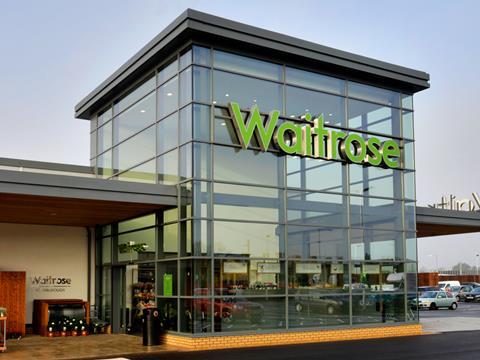 Watirose has recorded a 1.2% rise in first half sales as it looks to cope with "brutal market conditions".
Sales for the 26 weeks to 1 August were 1.2% up excluding petrol., having being up by 5.6% in the same period last year.
Chilled, fruit, vegetables, horticulture and bakery are up 2.1% so far this year, as is home and leisure. Ambient goods are up 1.9%, but meat, fish, frozen and dairy are down by 1.2%.
Waitrose will report its full half year figures on 10 September, but the 1.2% first half sales rise is likely to translate to a like-for-like sales drop of around 1-2% accounting for the contribution of new space.
Waitrose CEO Mark Price said the supermarket was "continuing to outperform the industry on sales, win new customers and gain market share" despite "brutal market conditions".
He added: "In its most recent headline report (for the 12 weeks ending 19 July) Kantar Worldpanel states that our sales rose by 3% and market share was up to 5%, an increase of 0.1 percentage points compared with last year.
"By contrast, the sector overall grew by only 0.8% and, once again, sales at the big four supermarkets were all in negative territory."
Sales for the week to 1 August were 1.4% up excluding petrol.
Operating profits fell 23.4% to £237.4m in its last January-ended financial year, or down 24.4% on a 52-week basis. Sales on a like-for-like basis climbed 1.4% excluding petrol.