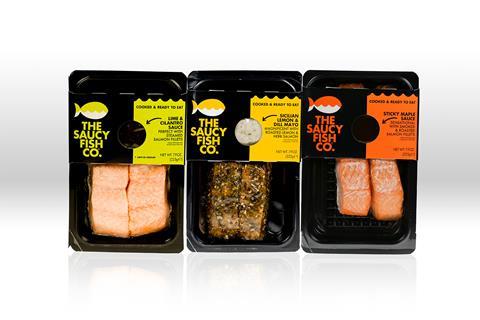 Icelandic Seachill's Saucy Fish Co has expanded its presence in the US after securing a listing with Whole Foods Market.
Three of the seafood brand's ready-to-eat products went on sale last week in 135 Whole Food Market stores across the Pacific Northwest, Midwest, Northeast and North Atlantic regions, while an additional 46 stores owned by the retailer in the Mid-Atlantic region will stock the brand after Christmas.
The pre-cooked, ready-to-eat product line-up is imported from the UK and consists of roasted salmon with sticky maple sauce, steamed salmon fillets with lime & cilantro sauce, and roasted lemon & herb salmon with Sicilian lemon & dill mayo (rsp: $9.99 - $11.99). Sales will be supported initially through in-store sampling in selected stores.
The listing follows the brand's first venture into the US market last year with supermarket chain Giant.
It has also recently secured listings in Belgian mult Delhaize and is also available in Australia's Coles and Woolworths under the Speedy Fish Co brand, in addition to retailers in New Zealand, Singapore and Hong Kong. However, the brand became the latest victim of Tesco's Project Reset last month when the retailer confirmed it had been delisted.
"International expansion is a key focus for the Saucy brand," said its international and business development manager Paul Macis.
"Whole Foods Market is a household name is the US, so we're delighted to be launching the latest additions to Saucy's ready-to-eat line in such a well-respected retailer."