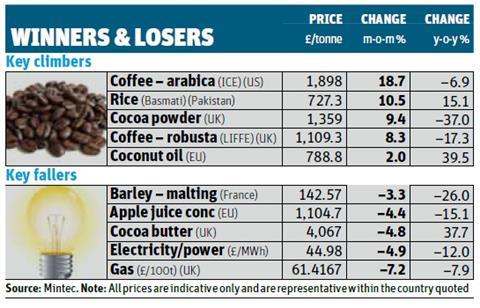 The price of arabica coffee continues to rise, gaining nearly 20% over the past month amid concern about dry, hot weather in Brazil. Production in 2014 is now forecast to fall by 4% year on year, to 5.2 million tonnes, and prices have risen in response.
Robusta coffee is also on an upward trend. Vietnam, the world's top producer of robusta coffee, is currently celebrating Vietnamese new year - which has reduced selling activity.

Gas and electricity prices in the UK have fallen because the weather has been warmer, wetter and windier than usual. Gas is down by 7.9% year on year and 7.2% month on month, while electricity has dropped by nearly 5% month on month. It continues to be cheaper on a year-on-year basis.