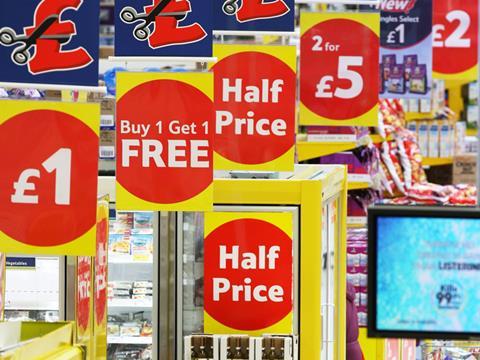 Shoppers face missing out on almost £4bn of promotional savings during 2017, with the number of offers in significant decline as supermarkets and brands come under numerous pressures, including the need for pricing transparency and the discounters' growing market share.

The average number of fmcg lines on promotion in the mults, Iceland and the Co-op fell year on year by 13% from February to May, resulting in an 18% reduction in consumer savings compared with the same period in 2016. Brits would benefit from £3.7bn less in savings were the trend to continue for the rest of 2017 [IRI Price and Promotion Study 2017].

This year's decline is the latest in a longer downward slide. There has been a 25% reduction in the number of items on offer across 300 categories since November 2012, when the Office of Fair Trading (now the Competition & Markets Authority) released its guidelines on promotions. "The rules had put retailers and suppliers under pressure to change the way they offer savings and to be more transparent," said Tim Eales, director of strategic insight for IRI.

"We've also seen market share gains from discounters with their simplified approach to pricing, along with changing shopper habits and, more recently, increased cost pressures such as the impact of sterling devaluation on manufacturer and retailer margins," he added.

Retailers were moving away from the "short-term benefits" of multibuys and price cuts, instead focusing on in keeping everyday prices as low as possible.