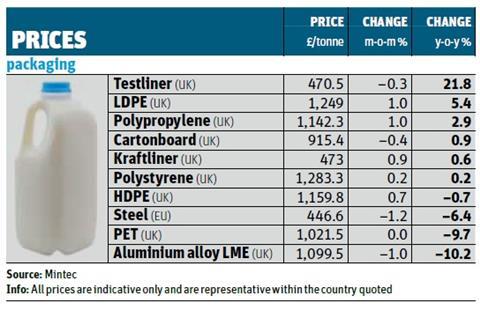 Although many packaging materials have remained stable or even become cheaper over the past month, testliner prices remain unusually high. Prices are up 21.8% on this time a year ago, having been driven up by low stocks and strong demand.

Some key plastics prices have also been moving upwards, though much less dramatically than testliner. LDPE in the UK is up by 5.4% year on year and polypropylene is up by 2.9% as a result of higher feedstock prices, which have fed through to parts of the plastics market; both are also up slightly on a month-on-month basis. However, HDPE prices have remained stable, with year-on-year prices down slightly.

Prices have also been falling in the aluminium and PET sectors. PET is down by 9.7% year on year due to weak demand and a supply surplus, with oversupply also weighing down aluminium prices, causing alloy in the UK to fall by 10.2% over the past year and by 1% month on month.