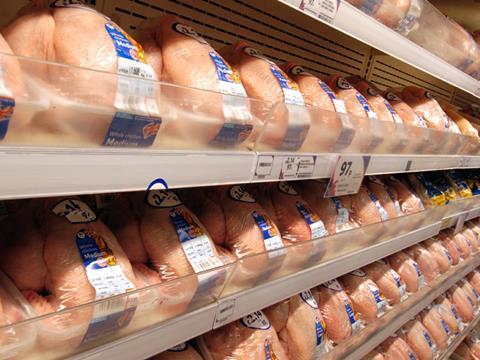 Tesco has made "significant progress" in reducing instances of campylobacter in its chicken after imposing tough new contamination targets for suppliers in the summer, it has claimed.

New test data compiled by the retailer revealed it had reduced instances of campylobacter in chicken at the highest level - defined as more than 1,000 colony-forming units per gram (>1,000 cfu/g) - to less than 9% for the three months to 15 October, compared with 15% recorded by the FSA for the period last year.

The new contamination targets, which were backed by Tesco's three chicken suppliers Moy Park, 2 Sisters Food Group and Cargill, included a new, independently audited processing standard, and meant the retailer was on target to meet its goal of reducing the highest instances to 5% by 2017.

"It has long been our commitment to reduce levels of campylobacter in our poultry and we are now seeing real progress at all stages of the supply chain," said Tesco group quality director and former FSA CEO Tim Smith.

The FSA is set to publish its own quarterly results on campylobacter instances across the mults on 19 November.