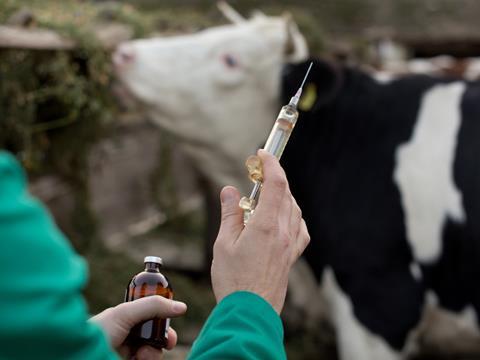 The UK is "on track" to meet its target to reduce the use of antibiotics in livestock, the government has said, with sales of drugs for use in food-producing animals falling by 10% between 2014 and 2015.

Sales fell from 62 mg/kg to 56mg/kg, according to the annual UK Veterinary Antibiotic Resistance and Sales Surveillance report, published by the Veterinary Medicines Directorate, part of Defra, this week.

Combined pig and poultry antibiotic usage fell by 16% (30mg/kg) to their lowest levels since 2011. Pig-only use fell by 24%, poultry use fell by 27%, fish farming use fell by 71% and dairy farming use fell by 9%.

The report was published in the same week a group of 15 senior medics called on the government to immediately ban the routine use of antibiotics in UK farming, claiming continued usage in the food chain "put patients at risk all over the world".

However, the data, and a "continuing downward trend" in antibiotic usage figures during the past 10 years, showed the UK was on track to reach the 50mg/kg target by 2018 outlined in the government's O'Neill Review into Antimicrobial Resistance, said Defra minister Lord Gardiner.

"Our farmers and vets are setting an excellent example for others around the world to follow, upholding the UK's position at the forefront of international efforts to tackle antimicrobial resistance," he added.

The hard work of the agrifood sector was "already paying off", said Responsible Use of Medicines in Agriculture (RUMA) secretary general John Fitzgerald.