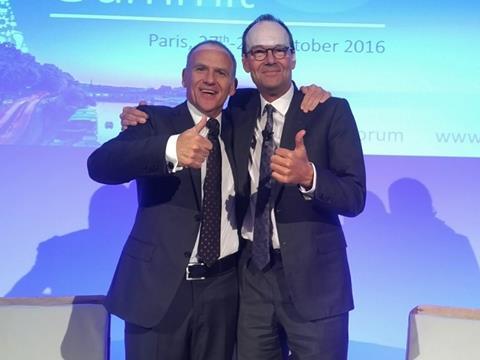 Two supermarket CEOs shared a rare moment of unity today as they urged industry to work together on food waste.

Tesco's Dave Lewis and Sainsbury's Mike Coupe shared a stage at The Consumer Goods Forum's first Sustainable Retail Summit in Paris earlier today to discuss their commitments to reducing the 1.9 million tonnes of food wasted throughout the supply chain each year.

"The fact that both Mike Coupe and I are here, talking about food waste, is significant," said Lewis at the event, before reiterating the retailer's commitment to ensure no edible food will go to waste from its stores by the end of 2017.

Coupe added that Sainsbury's had met its zero waste to landfill target and now believes itself to be the biggest contributor of surplus donated to food banks in the UK after consumers highlighted food waste as their top concern.

The CEOs joined M&S director of sustainable business Mike Barry, Christine Cioffe of PepsiCo and Nestlé's scientific advisor Petra Klassen Wigger at the two-day event, which will also include talks on forced labour and health.