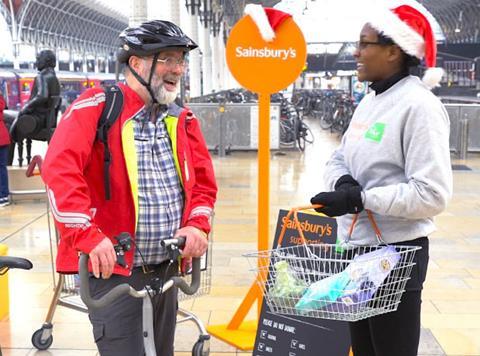 Sainsbury's installed a pop-up food donation station at Paddington Station yesterday to help feed hungry Londoners.

Commuters were able to place food into baskets and into a branded Sainsbury's fridge on the concourse of the station between 7am and 10pm.

Food waste and poverty charity The Felix Project delivered the items, including fruit, vegetables, tins, pasta, beans and pulses, to other charitable partners, which will help feed families in need over Christmas.
Sainsbury's matched each item with a donation of the supermarket's equivalent product for the first 50 baskets that were "filled to the brim".

The Festive Food Donation Station is an extension of Sainsbury's food donation programme, in which the supermarket partners with more than 1,000 food donation charities across the UK.

UK households bin seven million tonnes of food and drink every year, according to the Food Standards Agency, while one in four London parents worry about being able to put food on the table.