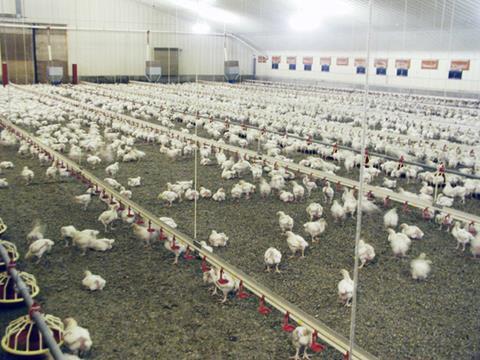 The poultry sector now contributes £3.3bn a year to the British economy, as consumption of poultry - especially chicken - continues to outpace that of other meats, a new report has suggested.

In an analysis for the British Poultry Council, published last week, Oxford Economics quantified the sector's contribution to the UK economy for the first time, calculating that it made a gross value contribution of £3.3bn to the UK's GDP on total sales of £6.1bn in 2012, and that it supported £1bn in tax.

"For every £1bn it contributes in gross value added itself, the industry generates another £1.3bn through its procurement and the wages it paid to employees in its businesses and across its supply chain," said Oxford Economics in the report.

Of the £6.1bn in sales, roughly £4bn came from poultry processing, with the rest coming from poultry production, it added.

The total sector also supported 73,200 jobs in the UK, it said, of which 35,400 were within the poultry industry itself, 25,100 in its wider supply chain and 12,800 were "in businesses which benefit from the spending of wages by the industry and supply chain employees".

UK consumers bought more poultry than any other meat, Oxford Economics said, adding poultry had seen less retail price inflation than other meats in recent years.

"Since 2001, poultry prices have increased by 27%. This compares with price increases in excess of 50% over the same period for beef, pork and fish, and of nearly 90% for lamb," it said.