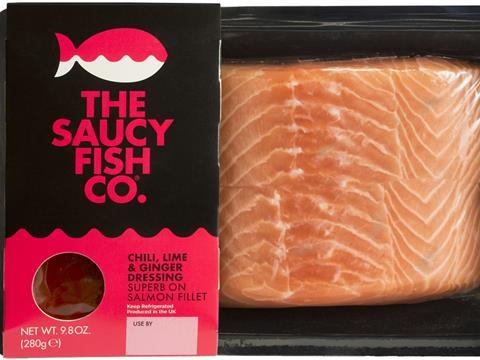 US shoppers will receive their first taste of The Saucy Fish Co as the Grimsby-based convenience brand gets set to launch into US supermarket chain Giant.

Saucy will be available in 390 Ahold-owned Giant-Carlisle and Giant-Landover stores across eight states from this week.

The US range will initially comprise three fish & sauce products, two "ovenable" Foil Bake Bag products and two ready-to-eat salmon products.

Brand owner IGUK is also introducing two new flavours developed to suit US palates: salmon with a sweet soy & chilli dressing and tilapia with a red Thai sauce.

The US listing represented a "great triumph" for The Saucy Fish Co as the US was the world's third-largest consumer of seafood, said Simon Smith, group sales and marketing director at IGUK. "In time, I expect the USA naturally to have larger sales than the UK," he added.

Manufactured in Grimsby, the US products will be shipped frozen, and then thawed and sold as chilled.

Distribution of Saucy products in the US will vary by retailer but those going into Giant stores will be distributed by C&S Wholesale Grocers.