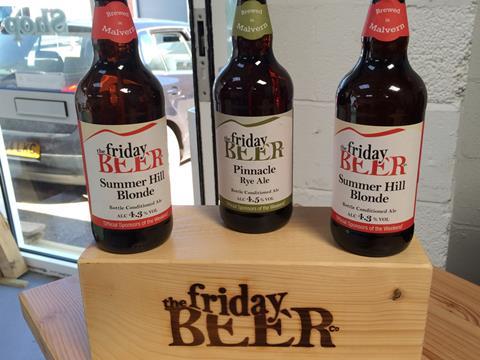 A brewery founded by three scientists is raising money from the crowd to help fulfil its ambitions to become "the UK's next BrewDog".
The Friday Beer Company is seeking £150,000 in return for 25% of the business on crowdfunding website Crowdcube, with 60% of its target already raised from 98 investors.
Its range of five bottled beers is stocked in 55 outlets in its home county of Worcestershire and across the country, including the wine department of Harrods.
Gerald Williams, Perry Jackson and Andrew Keir founded Friday after being made redundant in 2011. The trio, who expect revenues to exceed £1m by 2018, have held discussions with Asda and Waitrose, receiving a green light for a local trial once the business gains its SALSA (safe and local supplier approval) accreditation.
"We aspire to be the UK's next BrewDog-style of business and we see our company expanding over the years towards Friday-branded city-based bars," Williams said.
Friday, which also has aspirations to export to the US in the next two years, needs the funding to scale up the production of its beers.