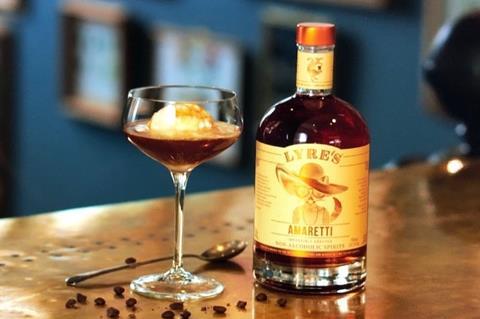 Non-alcoholic spirits brand Lyre's has raised £9m in growth funding, signalling the largest investment yet in the booming category.
The business plans to use the seed capital to fuel NPD, expand into new markets and maintain rapid growth in its core range.
Launched in Australia in July 2019, Lyre's has created a 13-strong range reinterpreting classic spirits, including American Malt, Italian Orange, Dry London, Italian Spritz, Amaretti and Coffee Originale, with more flavours slated for release.
The brand is available in more than 30 markets worldwide and is expanding into the RTD category in 2021.
Despite the challenges of the pandemic in 2020, the business has seen monthly revenues soar more than 400% since January thanks to a focus on the direct-to-consumer channel.
"This growth positions the Lyre's brand for continued success and leadership with high quality non-alcoholic alternatives in one of the fastest-growth consumer brand categories in the world," said CEO and co-founder Mark Livings.
Sales in the low & no category have soared almost 20% to £5.4m this year in the UK [Nielsen w/e 15 August 2020], with £3.5m of the total spend coming since the beginning of lockdown.
Investment in the category is also growing, with Diageo VC arm Distil Ventures last month acquiring a minority stake in German gin maker Rheinland Distillers, which also produces alcohol-free alternative Siegfried Wonderleaf.
A quarter of Distil's portfolio is now made up of international non-alcoholic brands.
Outside of spirits, Canadian non-alcoholic craft beer brand Partake Brewing secured a $4m injection earlier this month to expand its presence in the US. And in November last year, Mumbai-based Coolberg, which produces malt-based flavoured non-alcoholic beers, completed a $3.5m funding round.
The Lyre's £9m fundraising has been structured to be completed in three tranches over the course of an initial 12-month trading period.
Major participants in the seed round include VRD Investment, Doehler Ventures, DLF Venture and Maropost Ventures, with several European, American and Australasian family offices and high-net-worth individuals also participating.
"Lyre's was created to shake up the drinks category and put the choice back into the consumer's social occasion to drink freely," Livings added.
"The next year demarcates our business evolution from a start-up to a true multi-national beverage company, with manufacturing in multiple, global locations, compliance for new markets and continued recruitment firmly at the top of our task list."