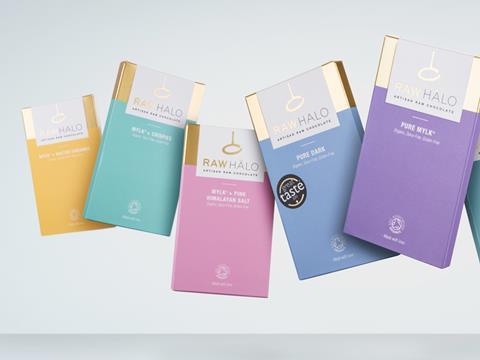 Raw Halo, maker of raw, organic chocolate, has kicked off a new round of crowdfunding, looking for £110,000 in exchange for 7.75% of equity.
Having secured its first UK national supermarket listing this year, the London startup brand is seeking finance via Crowdcube to expand its presence in the mults, continue marketing investment, and develop new products.
The business hoped to replicate its previous success on the crowdfunding platform, it said, having last year reached 176% of required funding – worth £150,000.
Founded in 2015, Raw Halo offers raw, organic chocolate free from refined sugar and dairy. It is listed in 20 countries and more than 400 stockists, including Booths, Harrods and Whole Foods Market. Revenue for the past 12 months was £190,000, while revenue to date is £380,000 from £630,000 of retail sales.
In September, the brand near-doubled the size of its portfolio by adding three 70g bars and seven gift sets targeted at Christmas, Valentine's Day and Mother's Day.