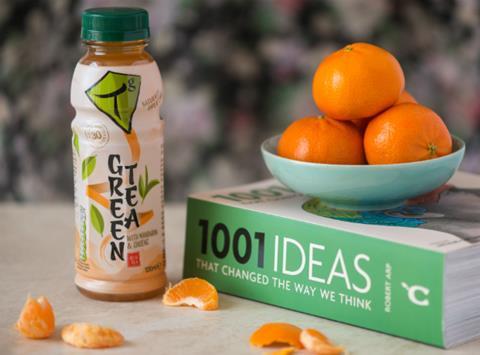 Start-up Tg Green Teas has hit its target on Tesco's new crowdfunding platform BackIt.

The brand has raised just over its £10,000 goal from more than 110 backers to fund distribution of chilled green teas. They are available in three flavours: Mandarin with Ginseng, Jujube & Ginseng, and Ginseng (330ml), with 100ml containing 2.1g of sugar, compared with the 4.4g in competitor Lipton Iced Tea with Peach.

The crowdfunding campaign closes at midnight tonight (7 November), and the funds have been earmarked for a delivery van and sales support to help secure retail listings.
"We're so emotional about reaching our goal," said Sophia Nadur, who founded the brand with Dr Hua He. "We started the business with our own savings and buckets full of passion. We wanted to bring a drink to market that could be consumed by all, was low in sugar but didn't compromise on taste, and I'm so proud to say we did."
Tg Green Teas says it has received the support of various nutritionists, as well being backed by Lisa Tse, founder of Sweet Mandarin sauces, who said: "They've got a winning combination of the people behind the product and also the quality. Tg is definitely the next best thing in soft drinks."