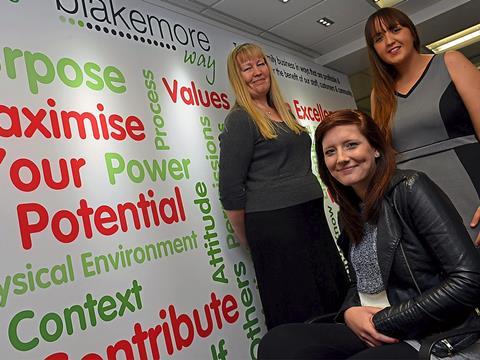 Wholesaler AF Blakemore is to launch its first graduate scheme this summer.

The company, which is ninth on The Grocer's ranking of the UK's 30 biggest grocery wholesalers, said four places would be up for grabs when the scheme launches in July.

The two-year programme will allow ­successful candidates to work across four areas of the business - People, Blakemore Retail, Blakemore Trade Partners and Blakemore Wholesale.

There will be a six-week induction to provide an overview of Blakemore's business, including spending time in frontline roles and attending a 'Leading the Blakemore Way' course - Blakemore's internal training programme.

Candidates will also have the opportunity to undertake an ILM qualification and get involved in a community project.

Blakemore group HR director Ian Diment said the programme was designed to develop future leaders.

"The new scheme will provide graduates with a fantastic opportunity to gain experience and skills across a number of diverse business areas," he added. "The recruitment and development of talent is vitally important to ensure the long-term sustainability of the business. Our aim is to establish AF Blakemore as an employer of choice for graduates and we hope to attract, develop and retain the best."

Candidates can apply until 20 February. They will be expected to attend a multi-stage recruitment process, including a group assessment day in June.