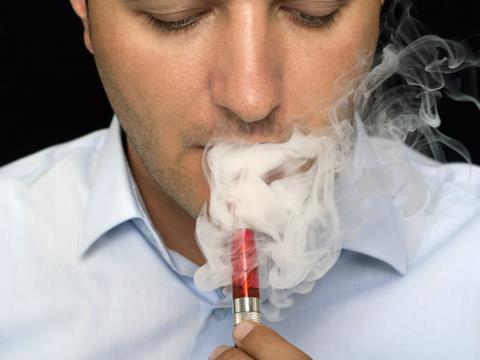 The Welsh Assembly is unlikely to row back from its tough stance on electronic cigarettes despite the publication this week of a report by Department of Health advisory body Public Health England that claimed e-cigs were 95% less harmful than tobacco products.
They helped most smokers quit tobacco altogether when supported by a smoking cessation service, said Duncan Selbie, chief executive of PHE.
The government in Wales unveiled a new public health bill in June. In it, Welsh health and social services minister Mark Drakeford proposed restrictions on the use of e-cigs in enclosed and substantially enclosed public and work places, mirroring existing restrictions on tobacco smoking. Doing this would make it the first part of the UK to introduce such legislation.
"We welcome this report, which provides a useful review of the current evidence on the role of e-cigarettes for smoking cessation and their safety," said a spokeswoman.
"We have outlined plans to restrict the use of e-cigarettes in enclosed public spaces, bringing them into line with conventional cigarettes. We are concerned the use of e-cigarettes may re-normalise smoking, especially for a generation who have grown up in a largely smoke-free society. Our bill does not aim to prevent the use of e-cigarettes for those seeking to give up conventional smoking,"
The Welsh government was not alone in its concerns, she added. The World Health Organization and other international bodies had called for greater regulation of e-cigarettes, and 40 other countries had already taken similar steps.