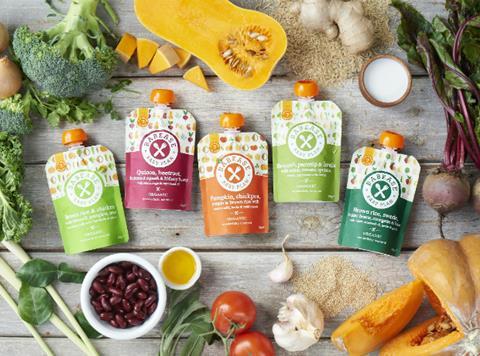 Organic babyfood startup Babease has overhauled its stage two feeding range with upgraded recipes, an extra flavour and revamped packaging.
All variants for babies from around seven months have been reformulated to be more calorific, adding ingredients such as brown rice and kidney beans to provide at least 65kcals per 100g. This was in line with common dietary advice for weaning infants, according to Babease founder and chef Tom Redwood.
The stage two lineup of low-sugar pouches – which have dropped their original cardboard sleeve – has been expanded to five options with the addition of Brown Rice & Chicken, the brand's first non-veggie variant. It includes 20% chicken, the minimum level that would be found in all future meat-based NPD, said Redwood.
The revised range (rsp: £1.50/130g) is rolling out now to more than 850 Tesco stores nationwide along with Babease's quintet of stage one recipes (rsp: £1.20/100g) – marking the brand's first listing in the big four. It won its first high street listing last June, landing on shelf in Booths six months after launching as "the first vegetable-led babyfood range" with a commitment to source the majority of ingredients from UK suppliers.