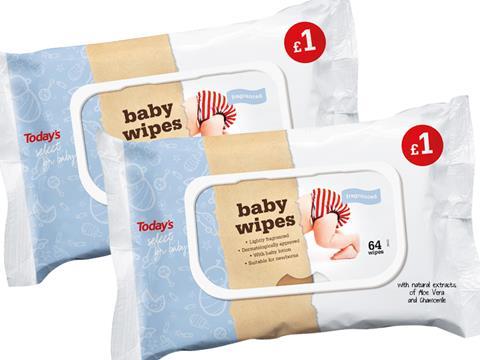 Today's Group has introduced own-label nappies and fragrance-free wipes to its Select range.

Available in four sizes - mini, midi, maxi and junior - the own-label nappies are price-marked at £3.29. The new fragrance-free wipes and new-look fragranced wipes are both price-marked at £1. Today's has 140 own-label SKUs across four brands: Select (ambient); Essentials (household and cleaning); Blue Stone Spring (mineral water for retail and foodservice) and Amberdown (a range of British ciders).
"Nappies and baby wipes are among the biggest impulse buys in c-stores. About four in 10 parents buy own-label nappies," said own-label trading controller Hilary Nithsdale. "Wipes are now used for more than just nappy changes - consumers are buying them for on-the-go clean-ups and make-up removal."
The nappies and wipes are available to order from Today's wholesaler members from 24 August and will be offered at a trial price of £2.99 and 89p respectively from 14 September until 4 October. Today's Group is the UK's largest buying group with purchasing power of £5.7bn. The group operates across the retail, on-trade and foodservice sectors and has more than 160 wholesale members, 434 symbol group retailers and 1,600 retail club members in England, Scotland and Ireland.