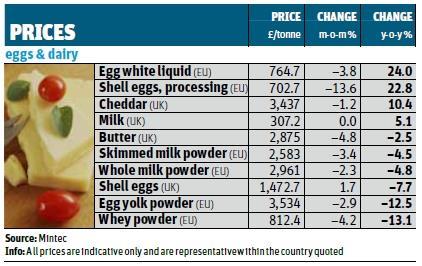 Strong global demand for dairy products has helped support Cheddar prices over the past year. At £3,437/tonne, prices are currently up 10.4% on last year, but they have started to come down on a month-on-month basis, as milk and cheese production has increased and demand has started to slow.
Price increases have also come to a halt for UK liquid milk, which is flat month on month, though it remains up 5.1% year on year. Meanwhile, powder prices are down month on month and year on year, with skimmed milk powder now down 4.5% on a year ago and whole down 4.8%.

In the egg market, meanwhile, prices have increased year on year as European producers have reduced the size of their laying flocks, leading to lower supplies. However, prices are down month on month as buyers covered their Easter demand earlier this year - just as production began to pick up - causing prices to fall.