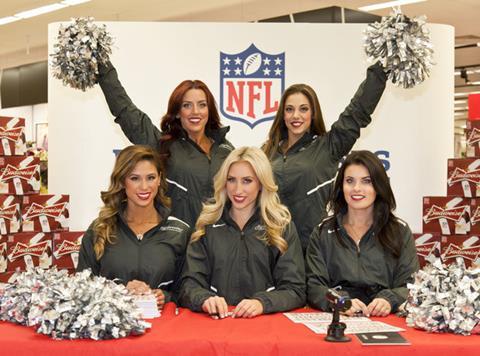 Rugby may be the word on everyone's lips at the moment, but Budweiser is rocking up at Wembley next week to get Brits talking about a whole different ball game.
To mark its partnership with American football's NFL ahead of a series of games taking place at Wembley Stadium this autumn, the beer brand is giving fans the chance to meet official NFL cheerleaders at the area's Tesco Extra.
Six cheerleaders for the Miami Dolphins will join Budweiser brand ambassadors at the store next Wednesday to perform routines and pose for photos. The brand will also be giving out prizes including a pair of tickets to one of the games.
The activity follows the launch of limited-edition NFL Budweiser packs featuring an on-pack promotion giving shoppers the chance to win tickets to the Super Bowl next February in San Francisco.
"We know from past experience the interest has been high from people wanting to meet the NFL cheerleaders in store, so we wanted to continue this tradition as part of our commitment to bringing fans closer to the games they love," said Budweiser UK marketing manager Steph Okell.