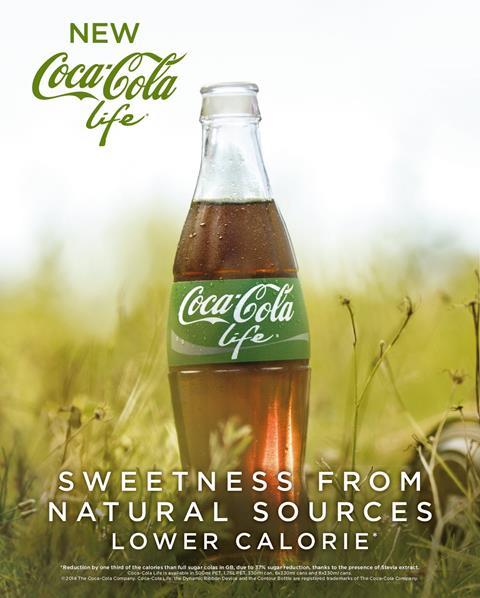 Coca-Cola Enterprises has today launched the first marketing campaign for reduced-calorie drink Coca-Cola Life.
The drink, which comes in green packaging, is sweetened with a blend of sugar and stevia, a plant-based sweetener that is virtually calorie-free. Coca-Coca Life contains 89 calories per 330ml can, against 139 for classic 'red' Coke.
Outdoor, print, digital and experiential activity will highlight the use of stevia, the lower calorie count, and the green packaging.
"The marketing campaign for Coca-Cola Life will create instant impact and ensure consumer awareness of the brand launch is high," said Nick Canney, VP for sales & marketing at Coca-Cola Enterprises.
"Coca-Cola Life along with Coca-Cola, Coke Zero and Diet Coke, is an important part of our ongoing commitment to offer consumer choice for every occasion and meet changing lifestyle trends. It forms part of our on-going strategy to bring innovative new products to the market to help drive incremental growth of the total soft drinks category.
In an opinion piece for The Grocer in June, Canney described the products as a "game changer" for the industry. In a blind taste test of four different colas, members of The Grocer's team rated Coca-Cola Life above both Coca-Cola and Diet Coke.
Coca-Cola Life is sold in a 330ml can, 500ml PET bottle, 1.75L PET bottle, 6 x 330ml can multipack, and 8 x 330ml can multipack.