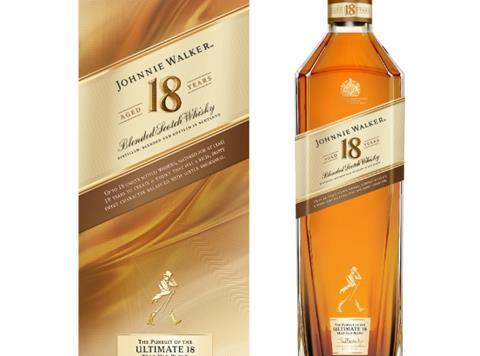 Diageo has relaunched its Johnnie Walker Platinum Label whisky under a new name and with a revamped look.
The super-premium Johnnie Walker Aged 18 Years, a blend of up to 18 whiskies from the main producing regions of Scotland, has been given gold packaging to mark the drink's "credentials as the best 18-year-old blend ever made by the world-famous Scotch brand".
It promises aromas of sweet fruits, toffee caramel, vanilla and a hint of smoke. Tasting notes include dark fruits, malty cereal, creamy vanilla, almonds and tangerine – with finishing notes of dark chocolate, caramelised citrus peel and very light smoke (rsp: £84/70cl).
Set to roll out in the summer, the 40% abv Johnnie Walker Aged 18 Years is supported by a short film that follows master blender Jim Beveridge in his pursuit of the "ultimate" 18-year-old blended Scotch.
The relaunch came in response to "real consumer demand for 18-year-old whiskies" said Nick Temperley, head of Diageo Reserve GB.