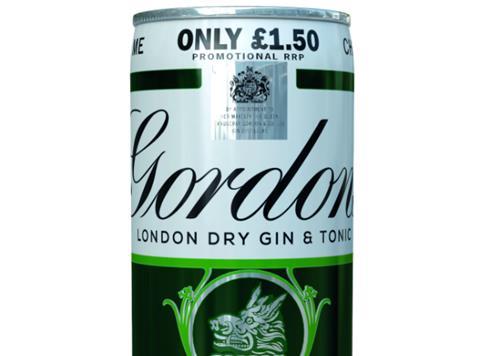 Diageo has relaunched its ready to drink spirits lineup in a PMP format.
The six-strong range of Gordon's Gin & Tonic, Smirnoff & Cola, Smirnoff & Cranberry, Gordon's & Slimline Tonic, Captain Morgan & Cola, and Pimm's No.1 & Lemonade is available now for £1.50 per 250ml can.
The move replaces the supplier's original two for £3 promotion and comes as premix sales are growing faster than beer, wine and cider in the impulse channel, with a year-on-year increase of 14%, according to Diageo.
The premix trend was being driven by consumers looking for "new and exciting drinks to enjoy at casual get-togethers and parties", said Claire Kendall, the booze giant's senior customer category development manager.
The "classic combinations" were the most popular Diageo RTDs, she added, with Gordon's Gin & Tonic being the bestselling variant, and Pimm's & Lemonade and Captain Morgan & Cola coming in a "close" second and third respectively.