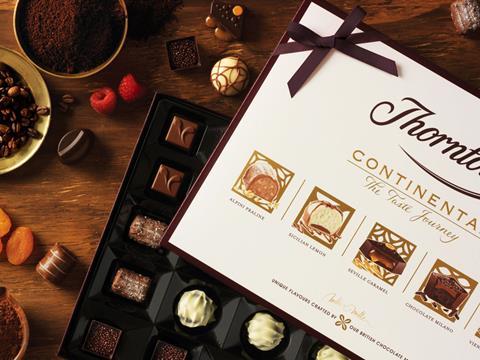 Ferrero is celebrating 50 years in the UK by launching a £4.9m campaign and new category strategy for Thorntons.

One year after acquiring the boxed chocolates brand, Ferrero plans to steer it away from a marketing and promotional approach based on sharing, and instead focus on gifting.

As part of the move, Ferrero is inviting retail customers to its Shopper Experience Centre at the supplier's new HQ in West London. It features a 3D studio, virtual grocery stores and a point of sale showroom, and is part of a multichannel celebration of Thorntons' "authenticity, ingenuity and intricacies".

The push, which will include a TV ad airing for six weeks from 4 November, has been designed to target consumers familiar with the brand, to "remind" them of why they should buy.

"The journey that we've been on, integrating the Thorntons brand into our portfolio, has really taught us a huge amount about the boxed chocolate category," said Levi Boorer, category development director.

"The first thing we did when we saw the potential of the Thorntons brand was make a big decision to invest heavily behind it," he added.

"The acquisition has taught us lots about gifting, and really helped us to tie up how we can have a portfolio that gives shoppers solutions across gifting and sharing."

Ferrero completed its acquisition of Thorntons in August 2015 for £112m, and is now understood to be in talks with United Biscuits owner Pladis over the Belgian luxury biscuits business Delacre.