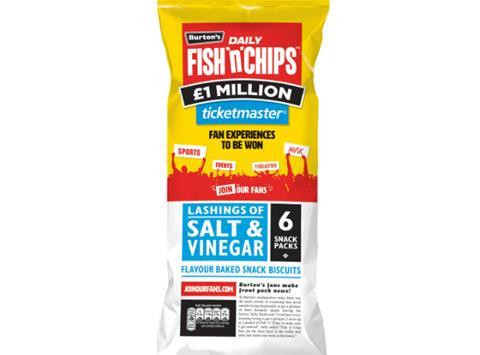 Burton's Biscuit Company is to launch its "biggest ever" on-pack promotion for Fish 'n' Chips, in a tie-up with Ticketmaster that will see £1m of 'fan experiences' up for grabs
Kicking off on 4 April, the giveaway will run for 12 weeks across eight SKUs in Salt 'n' Vinegar, Pickled Onion and Chicken 'n' Chips flavours.
Shoppers will need to visit Joinourfans.com with their pack code for the chance to claim prizes including 100,000 50p-off Fish 'n' Chips vouchers, 20,000 Ticketmaster gift cards worth £50, and three 'ultimate fan experiences' – giving each winner £2,500 of tickets to sporting events, concerts, theatrical performances and leisure activities of their choice.
Fish 'n' Chips had seen "phenomenal growth" since its revival three years' ago in response to The Grocer's Bring Back a Brand campaign, said David Costello, head of category and shopper management at Burton's.
The new promotion would allow the supplier "to engage and reward Fish 'n' Chips fans", as well as " increase awareness and trial among crisps, snacks and nuts shoppers", he added.