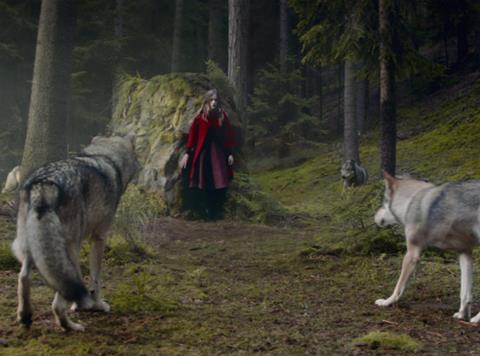 Green & Black's has kicked off the first TV push for its recently launched Velvet Edition range – the biggest addition to the brand's portfolio in 26 years.
Called 'Dark But Different', the 20-second spot made its debut on ITV last night (18 October). It opens with wolves chasing Red Riding Hood through a gloomy forest. They catch up with her, and it is revealed they are in fact playing hide and seek. The ad finishes with Red Riding Hood counting as the wolves run off to hide again.
The commercial was created by Mcgarrybowen and directed by Dorian & Daniel – one of the advertising industry's "hottest new pairings" according to Green & Black's. Its soundtrack is a version of The Delfonics' 'Ready or Not Here I Come (Can't Hide from Love)'.
It comes two months after Green & Black's owner Mondelez unveiled Velvet Edition in an effort to broaden the appeal of dark chocolate. The lineup is the brand's first to be neither organic nor Fairtrade.
"We want to inspire consumers to discover a new side to dark chocolate," said Maximilian Adams, senior brand manager at Green & Black's.