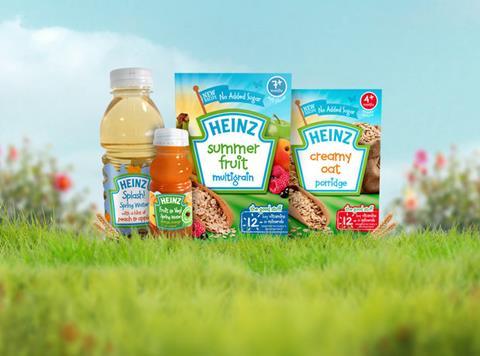 Heinz has cut all added sugar from its breakfast cereals and expanded its infant drinks line-up with flavoured spring waters.
The supplier said concerns over added sugar had prompted parents to move away from dedicated children's ranges. "We want to encourage parents back into the infant feeding category by introducing varieties alongside new and improved recipes," said senior brand manager Nina Shanahan.
Heinz is rolling out the improved breakfast cereals this week alongside two new spring water ranges. The Splash line-up is made with spring water with 'just a splash of fruit juice' and is available in peach & apple and red berries & apple flavours. It is also launching the Fruit and Veg Spring Water range in Orange, Mango & Carrot and Apple & Carrot flavours. The drinks are available in (rsp: £1.49) and 150ml formats (rsp: 69p).
The products, which contain only naturally occurring sugars, will be supported with advertising.
Heinz has also revamped its apple and apple & blackcurrant Fruity drinks with new and improved flavours.