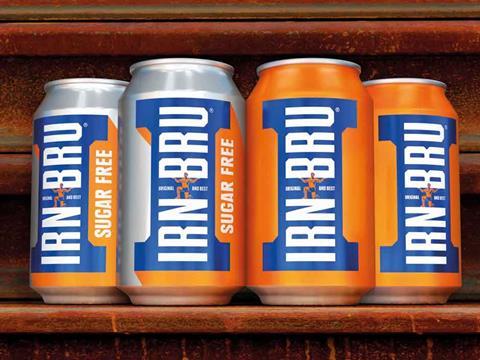 Irn-Bru has updated its packaging for the eighth time in more than 100 years.
The redesigned orange cans and bottles, which feature a blue girder and original strongman and Highland athlete Adam Brown, will roll out in March 2016.
Born in 1901, the fizzy drink was created to quench the thirst of steelworkers and has long been associated with strength and power.
"Girders are such a strong part of our heritage, we knew we had to have them front and centre on our packs," said Adrian Troy, head of marketing at Irn-Bru. "The new designs really modernise Irn-Bru but stays true to our roots."
Earlier this week AG Barr revealed its first new Christmas advert for Irn-Bru in nine years, as part of its successful Gets You Through campaign.
The 'Jumper' Christmas advert provides a cheeky alternative to more sentimental festive ads by celebrating the gift of giving with an Irn-Bru twist.