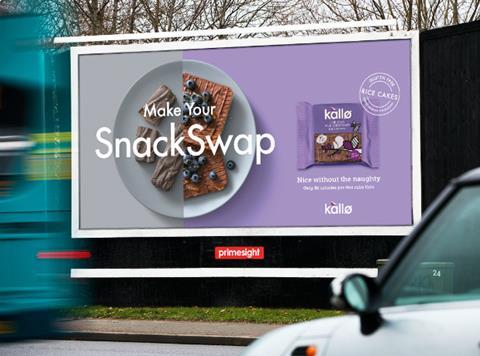 Kallø has kicked off its first-ever national out-of-home advertising campaign, expected to reach more than 40% of shoppers across the UK.
Starting today (25 September), the four-week push aims to "inspire consumers to make intelligent midweek food choices, by trading in their traditional snacking and lunchtime choices for lighter, low-calorie options".
It comprises three 48-sheets showcasing Kallø's range of organic, low fat and gluten-free products via the messages 'Make your SandSwitch', 'Make your SnackSwap' and 'Join the StockExchange'. Each ad includes "a visual representation of the vibrant side of healthy food choice" said the Wessanen brand.
The drive came after a Kallø poll found more than 50% of UK consumers ate healthier packaged snacks – such as rice cakes, cereal bars and nuts – at least once a day, it added.
The billboards will be supported online through photography and recipe ideas from The Kallø Collective – a group of social media stars including food photographer & stylist Bea Lubas, Instagram influencer & 'growth mentor' Dominique (also known as Allthatisshe) and fitness, food & lifestyle blogger Tara London.
"Many of our fans actively use social media for lifestyle and food inspiration, so this is a perfect opportunity for Kallø to engage directly and share our message even wider," said Hayley Murgett, Kallø brand controller at Wessanen UK.