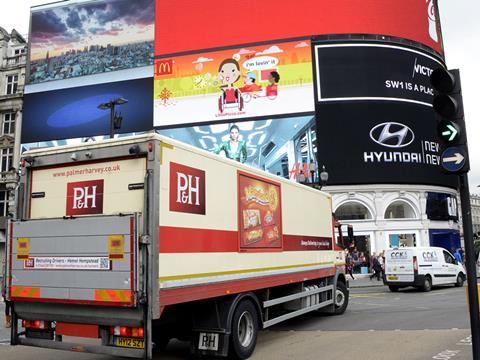 Palmer & Harvey is giving suppliers the opportunity to advertise on the side of its vehicles for the first time.
The new initiative, which will roll out over the coming months, will enable them to showcase new products and campaigns to a wider consumer audience across the UK.
The adverts will be displayed on both sides of Palmer & Harvey lorries and will change every three weeks to coincide with promotional periods.
"This initiative is a fantastic way for suppliers to connect with their consumers. With our fleet of more than 1,400 vehicles in every postcode, the opportunity for suppliers is huge," said P&H channel marketing manager Simon Harris.
The wholesaler makes about 55,000 deliveries per week, with each of its lorries covering 517 miles Monday to Friday.
Burton's Biscuits will be the first company to participate in the new scheme with ads for its Maryland cookie brand.
"We are delighted for Maryland to feature on the side of Palmer & Harvey lorries - this drives great visibility for our brand both with our local retailers and consumers, keeping Europe's number one cookie brand top of people's mind in every high street location," explained Maryland senior brand manager Emma Clacher.